LUCIFERION (SWEDEN)
---
LUCIFERION's guitarist Micke Nicklasson and drummer Peter Andersson are both ex-SARCAZM, whilst vocalist Wojtek Lisicki previously sang with HIGHLANDER. Nicklasson also sings lead vocal for LIERS IN WAIT. The band was rounded out by another erstwhile HIGHLANDER man, Martin Furängen on bass guitar. Following the recording of the group's debut 'Demonication (The Manifest)' drummer Peter Wiener quit to be superseded by ex-LIERS IN WAIT drummer Hasse Nilsson. The album featured a version of SODOM's 'Blasphemer'. LUCIFERION also covered METALLICA's 'Fight Fire With Fire' for the Black Sun Records tribute album 'Metal Militia'.



RELATED BANDS:
Sarcazm
Crystal Age

PAGE STATUS: Incomplete. We need the following:
More information about the demo.
Please Contact us.
Report a mistake OR Update data on this page >>
1994 PROMO
Pro covers. Recorded onto regular tapes. No lyrics.

TRACK LISTING:
- Suffer
- Carnage
- Grace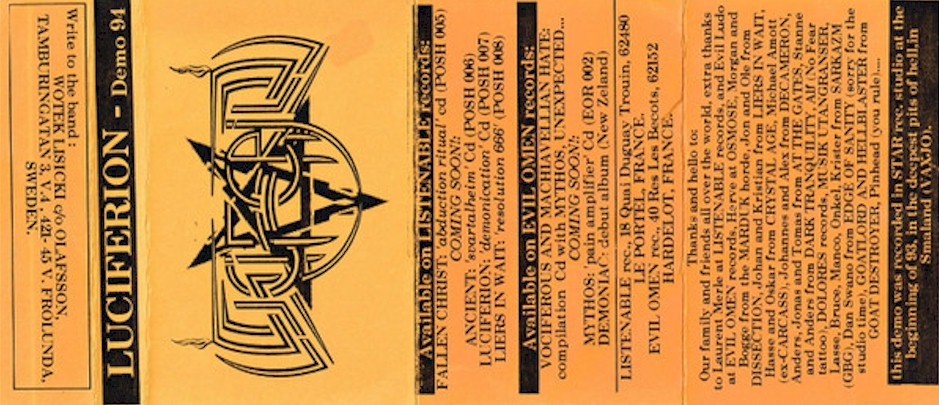 1994 DEMO
Pro covers. Recorded onto regular tapes. No lyrics.

TRACK LISTING:
- Rebel Souls
-The Voyager
- Hymns Of Immortals
- Graced By Fire
- Satan's Gift (The Crown Of Thorns)


DEMO FLYERS
BAND PHOTOS


PAGE LAST UPDATED: 10/2/2013 6:12:28 PM